The Ford Mustang is undeniably one of the most iconic and important cars to ever enter the automotive market. It ushered in a new era of vehicles the American public had never seen before and immediately captured the attention and imaginations of nearly everyone.
1964 was a great year in American history. First, the Beatles made their unforgettable appearance on The Ed Sullivan Show, and then two months and nine days later, the production Ford Mustang appeared at the New York World's Fair on April 17, 1964.
That first year of production, which was really only half a year, Ford sold an astounding 126,538 Mustangs. It was clear-Americans loved the Mustang.
Because of its sleek styling and immense popularity, the Mustang earned the attention of longtime racer, Carroll Shelby. He saw the potential for the Mustang to be a true racer, so he took 100 Mustangs to Los Angeles and modified them into what would be called the GT 350. He got rid of the rear seats and added large front disc brakes, a fiberglass hood, lowered suspension, and oversized tires. Today, these Mustangs, and others he produced through 1970, are the most desirable Mustangs ever built.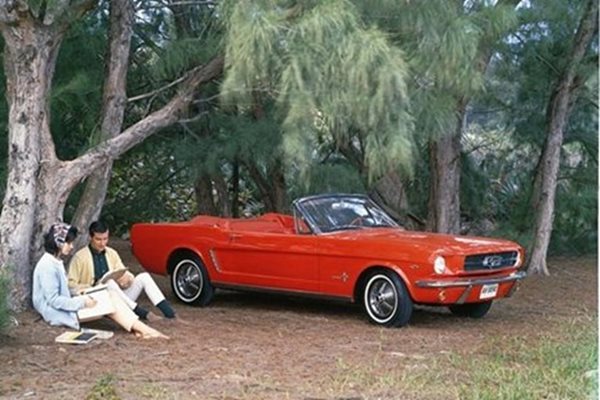 By 1967, the rest of the market caught up and the Mustang had some competition. Ford upped the ante even more with a revised Mustang and gave it larger, more exaggerated features and more powerful engines. Overall, this made the Mustang slightly bigger and made it more stable, more comfortable, and all-around better.
During the 1970s, the automotive industry as a whole went through a rough patch with tighter and tighter emission regulations. This meant the Mustang suffered with drops in engine output; however, it still remained popular.
By 1979, things were starting to look up again and the Mustang entered its third generation. This all-new Mustang was so reliable, it was even used as a police car by some law enforcement agencies.
In 2014, the Mustang celebrated its 50th anniversary. This, of course, meant an all-new model had to come out. For the sixth and current generation, the Mustang takes direct inspiration from the very first Mustangs with a classic design. It boasts up to 435 horsepower with the 5.0-liter Coyote V8 engine.
Can you imagine a world without the Ford Mustang? We sure can't. Come see the all-new 2016 model today here at Paul Obaugh Ford in Staunton, VA. Are you ready?