Ford's Game-Changing EcoBoost Engine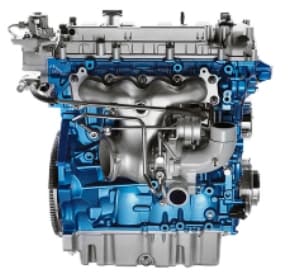 Ford first debuted the EcoBoost engine on the F-150. This was a great test because pick up truck drivers demand the highest levels of performance from their cars. If the EcoBoost engine was going to succeed it needed to work for F-150 buyers. And it did. Buyers flocked to the F-150 EcoBoost in great numbers and when you look at the data there's no question why.
The version that is available on the F-150 is a 3.5-liter V6. A mid-level engine, especially for a truck, but this engine puts out huge numbers. The 3.5-liter EcoBoost provides 365 horsepower and 420 lb-ft of torque. To put it in perspective the largest truck engine available on the F-150 is a 6.2-liter V8 that gives drivers 411 horsepower and 434 lb-ft of torque. The other V8 available, which displaces 5.0-liters, only produces 360 horsepower and 380 lb-ft of torque. That means that the "small" 3.5-liter EcoBoost is the second most powerful engine available on the F-150. What makes it even more special is the great fuel economy drivers can get.
Most would expect that such power from the EcoBoost has to come with a price, and would assume that price is fuel economy. But that's exactly what Ford set out to conquer. The EcoBoost engine delivers the second best performance numbers, and the second highest fuel consumption numbers. With a 4x4 drivetrain drivers get an EPA estimate 15 mpg city and 21 mpg highway. These numbers are nearly identical to the significantly less powerful 3.7-liter engine (the smallest in terms of power available). Comparing it again to the most powerful 6.2-liter engine the EcoBoost achieves roughly 25% better fuel economy and will net drivers 2-3 miles per gallon compared to the 5.0-liter V8 (and its more powerful).
So what exactly its an EcoBoost engine? For starters, its NOT a hybrid, which is a common misconception among those who haven't heard of the engine. EcoBoost engines are direct-injected and turbocharged to provide a cooler, denser charge that generates more power per every drop of fuel. Ford says, "you experience instantaneous low-end torque responsiveness with virtually no turbo lag." The performance of this engine allows Ford to take one of two different but similar routes in their engine line up, depending on the vehicle.
Ford really has two different ways to adapt the new technology, and buyers will start to see these in the coming years as Ford expands the EcoBoost offerings to more and more models. The first route is what they have already done with the F-150. Ford was able to take an engine with a similar, sometimes even smaller, displacement (base F-150 engine starting at 3.7-liter; EcoBoost 3.5-liters)  and giving it the EcoBoost treatment. By doing it this way they were able to give drivers more power where they need it most while keeping fuel economy nearly identical to a much less powerful engine. This was the main adaptation of the engine and will remain the focus of the expansion. But there is another similar, yet slightly different way to adapt the engines.
For smaller cars, where fuel efficiency is more desirable that horsepower and torque (think Focus and Fiesta) Ford is able to put in a much, much smaller engine and give it the EcoBoost treatment. What this will do is provide similar horsepower and torque numbers as the larger engine, but fuel economy will skyrocket. This will mean that buyers who are looking for the most fuel efficient cars on the market will not have to drive something that performs like a go-cart. Economy buyers will be able to get the power they need for highway driving while saving significant money at the gas pump. This adaptation hasn't taken off yet but we expect to start seeing it soon. Ford plans to have 2 EcoBoost engines available on the next Escape and they are rumored to be producing a tiny 1.0-liter version that will likely be found in either the Fiesta or Focus.
Now comes the other key question. What models are currently available with an EcoBoost engine option? Currently the 2012 Explorer, F-150, Edge, Flex and Taurus are each available with an EcoBoost engine. As we said before the next Ford Escape, which is due out next year, will have 2 different EcoBoost versions available and Ford is expected to expand the technology to some of the smaller, fuel-economy focused cars like the Fiesta and Focus in the near future, but exact dates for  that have not been made public by Ford. You can learn more about each of the 2012 model year cars by viewing our model overview page. This page gives a short look at each of the models for the year. You can see each of the currently available EcoBoost engines stats and which models they are available on by using the table below and you can head over to
Ford's website
for even more info.
Hours
Monday

8:30am-6pm

Tuesday

8:30am-6pm

Wednesday

8:30am-6pm

Thursday

8:30am-6pm

Friday

8:30am-6pm

Saturday

9am-5pm

Sunday

Closed
See All Department Hours
Dealership Hours
Monday

8:30am-6pm

Tuesday

8:30am-6pm

Wednesday

8:30am-6pm

Thursday

8:30am-6pm

Friday

8:30am-6pm

Saturday

9am-5pm

Sunday

Closed
Parts Dept. Hours
Monday

8:00AM - 5:30PM

Tuesday

8:00AM - 5:30PM

Wednesday

8:00AM - 5:30PM

Thursday

8:00AM - 5:30PM

Friday

8:00AM - 5:30PM

Saturday

Closed

Sunday

Closed
Service Dept. Hours
Monday

8am-5:30pm

Tuesday

8am-5:30pm

Wednesday

8am-5:30pm

Thursday

8am-5:30pm

Friday

8am-5:30pm

Saturday

Closed

Sunday

Closed