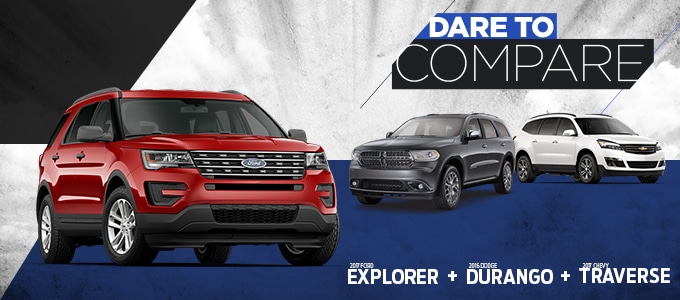 The Ford Explorer is a sporty SUV that's perfect for any driver. In addition to its impressive new features and bold styling, the Ford Explorer also comes with precision craftsmanship and unparalleled capabilities. If you're looking for the best SUV, look no further than the new Ford Explorer. When compared with models like the Traverse and Durango, there is little competition.
Performance and Efficiency
The Explorer is well equipped when compared to other models. Under the hood is a powerful V6 engine that gets up to 290 lb-ft of torque, which, when compared to the Traverse, is 9 lb-ft better. This model also has better fuel economy than the Traverse. The Explorer gets up to 17/24 (city/hwy) mpg, while the Traverse only manages 15/22 (city/hwy) mpg. That means you get more power and better capabilities, plus better fuel economy.
Interior Features and Space
There's no point in getting an SUV if you don't have space. The new Explorer comes with added dimensions, with third-row seating and a seating capacity up to seven. The standard Durango only comes with two-row seating and room for five-if you want more space, you have to pay extra on the Dodge. The Ford, however, comes standard with added space. You get up to 41.4 inches of front headroom, better than both the Traverse and Durango, and you get up to 42.9 inches of leg room, an inch more than competitors.
Styling
Finally, the Ford simply has better styling. It's difficult to compare style and design objectively, but one glance will tell you just how impressive the new Explorer is. Bold looks and LED lighting are just the start-you also get alloy wheels, sharp contours, and a redesigned fascia on the new Explorer. Compared to competitors, the new Explorer is truly impressive.